NEWS
11.11.2018
I will have my first solo exhibition from January 18 to January 31, 2019 at Lee & Lee Gallery in Los Angeles. More information is available on the
solo exhibition page
.
10.10.2014
I have started to collaborate with Duncan Miller Gallery to sell my prints online. They will offer my prints from time to time at
www.yourdailyphotograph.com
.
9.20.2014
Two of my images will be part of the
ALL MEDIA 2014

exhibition
at Irvine Fine Arts Center from Sept. 20 thru Nov 1, 2014.
2.1.2013
I am pleased to announce that
ADORE NOIR
, an e-magazine specializing in black-and-white fine art photography, has published twelve of my photographs along with an interview article. My photographs are featured from pages 50 to 61 under the title
Sensual Botanicals
in issue #12 (February 2013). I encourage you to
download current

ADORE NOIR

issue #12
to view my works. It costs $2.95. You can enjoy many wonderful works by other talented photographers, too.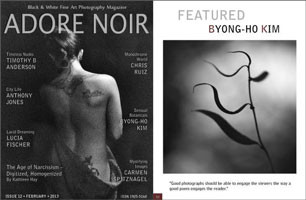 12.20.2012
My bird image titled
Remembrance
has been chosen as cover of a catalog for
PhotoPlace Gallery's Bird: Real or Imagined exhibition
that will take place in January, 2013.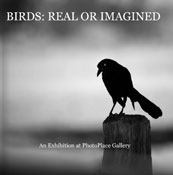 11.11.2012
My entry in the Black & White Single Image Contest 2013 has been selected for a Single Image Award. My images will be published in the Special Issue #95 of B&W magazine scheduled to arrive on newsstands early December.
5.7.2012
Several of my images have been selected for a Merit Award in the B&W Portfolio Contest 2012 and will be published as a 2-page spread in the Special Issue #92 of B&W magazine, scheduled to arrive on newsstands early June. There were 81 winners in this category (out of a total of 413 entries, consisting of 681 portfolios, totaling 7,500 images).
4.15.2012
I will be part of a group exhibition at
Galerie Rheeway
in Los Angeles. The show's opening is on Thursday, May 24 from 6 pm to 9 pm. The show will stay up for 1 month.
12.21.2011
My image
Remembrance
has been accepted into the 2012 Black & White Themed Exhibition at the
New Space Center for Photography
in Portland, Oregon. The show will be from February 3 through 27, 2012.
12.12.2011
One of my photographic work has been juried into
ALL

MEDIA 2011 SHOW
hosted by
Irvine Fine Arts Center
in California. It is now in exhibition at the main gallery of the Art Center. Show continues until January 7, 2012.
11.9.2011
Three of my photos were selected for a Merit Award in B&W Magazine's Single Image Contest 2012. They are published in the B&W Special Issue #88 of B&W+COLOR Magazine available on newsstands the first week of December.
8.15.2011
I added a page of my past Exhibitions, Publications, and Awards.
7.24.2011
My website is live! Please send feedback to
b@byonghokim.com
.